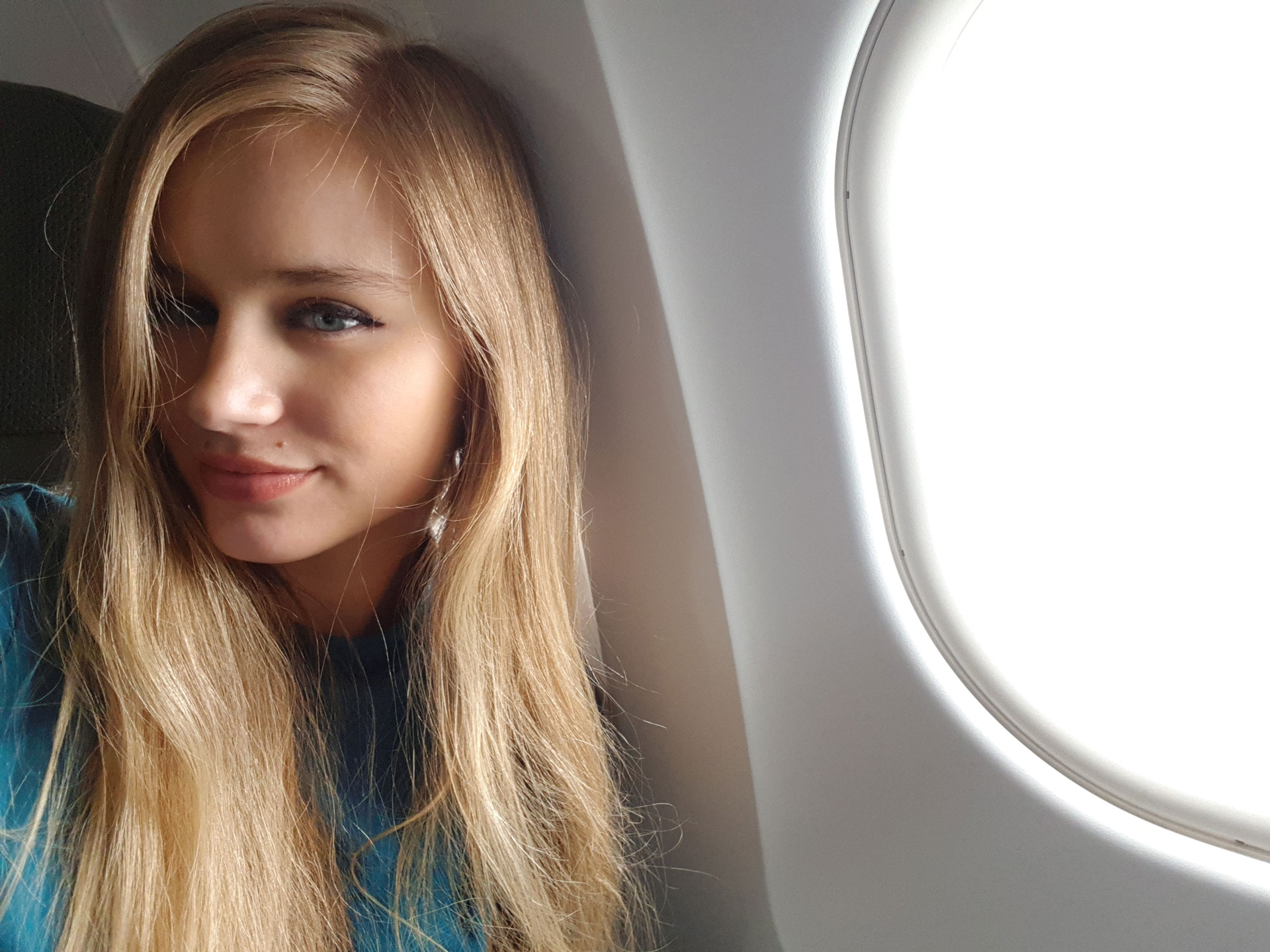 My Ultimate Pre-Travel Checklist.
Your travels are about to begin and you can't wait to start your trip. But first you want to make sure you're not forgetting anything. With 5 years of experience living out of a suitcase, I'm here to help: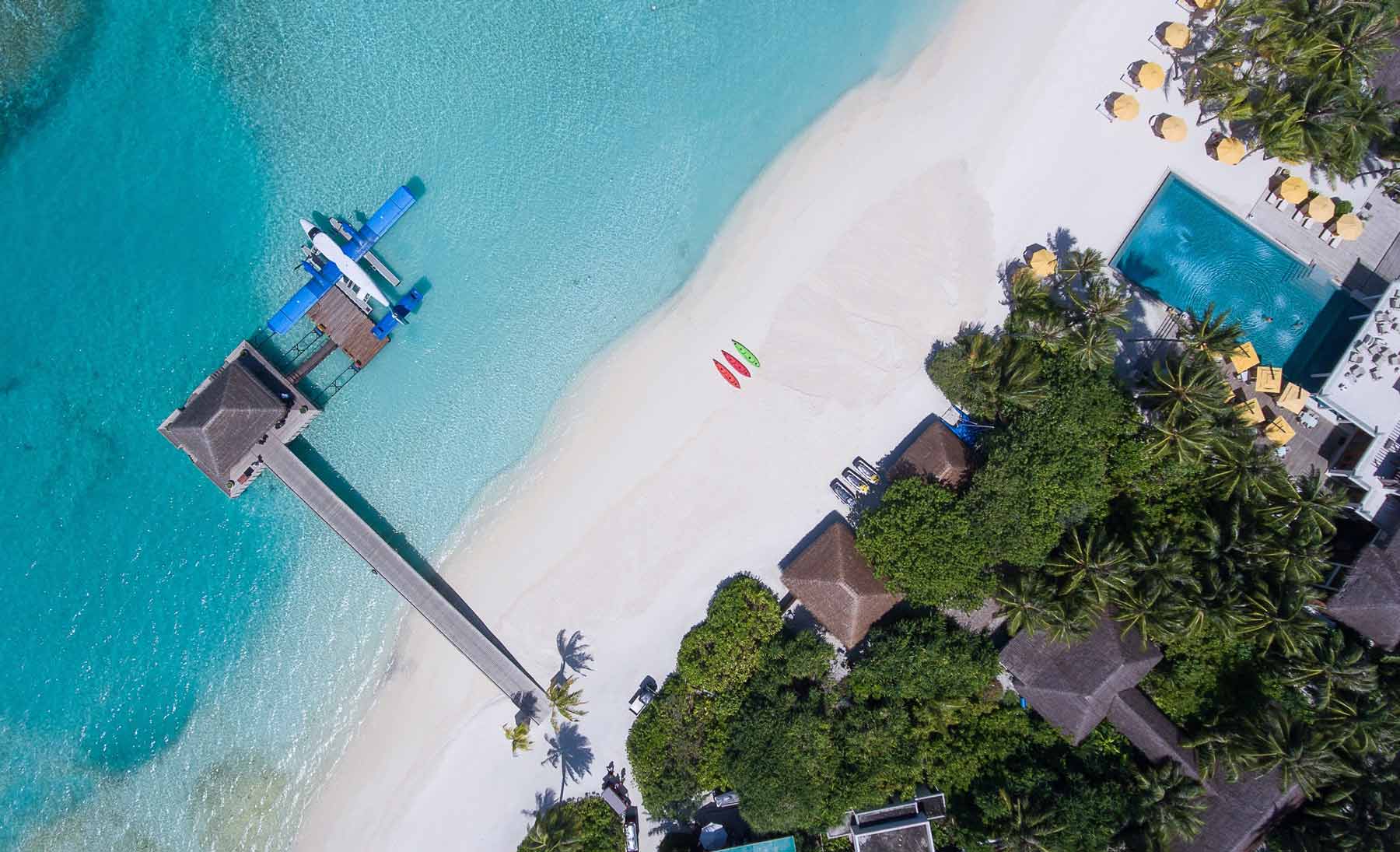 ◊  Put a travel alert on the debit and travel credit cards you will be using abroad. In the last few years, many banks stopped requiring you to notify them of international travel, but it's still best to check as some banks will put a hold on your account if you don't give them your travel details.
◊  Get a piece of paper and write "If Lost: Your Name, Your Email Address, Your Phone Number" in large, bold, red letters and put this note inside your luggage where it can be seen immediately when your bag is opened. Feel free to also add your home address. I've laminated my paper and in 50 countries my luggage has never been lost.
◊  Download any apps that will be beneficial. I will soon have a complete guide on travel apps (that I will link here) to help you decide which are essential for you.
◊  Pay off all the bills as soon as you can. If you are away for over a month, it may be best to set up automatic payments to avoid missing one.
◊  Put the phone numbers of all your booked accommodations into your cell phone. If you do not want to use your current phone plan abroad, download the Rebtel app in case you need to make phone calls without WiFi. Or, if you prefer Skype (which needs WiFi to function) purchase credit. Skype minutes are affordable, so a $10 credit can go a long way.
◊  Buy some cheap luggage tags if you haven't already. Add at least one to each bag or make sure your old ones have up-to-date information.
◊  Make sure your shoes are broken in.
◊  Get cash out of the ATM and set it aside for your travels. If you feel more comfortable carrying your destination country's currency with you, like I do, exchange some cash at a currency exchange or order currency from your bank. Tip: It's nice to have US$1 bills on you if you're traveling to countries where it's customary to tip, though it's better to tip in the country's currency.
◊  Download an app or pay for a service where you can store your photos online. Set your phone to automatically backup your photos to this service when on WiFi. You can replace a camera, but you can't replace memories.
◊  Anything you plan to take on your trip should be packed away as soon as you're no longer using it at home. If you use packing apps, it makes the entire process easier. Packing Pro helps you customize and create your packing list, while My Closet is a great tool to see everything you have packed in photos on your phone. Hopefully you can be mostly packed a few days in advance.
◊  Create a first aid kit with over the counter medications, bandages, and antiseptic, which are essentials no matter where you're traveling to.
◊  Do your laundry as early as possible so everything you want to pack is clean. Try to wear clothes you're not bringing with you the last few days before travel. Trust me, you don't want to be panicking to dry your clothes last minute or end up traveling with heavy, damp items.
◊  If you are traveling for more than a month you may want to quit memberships with your gym, yoga classes, or clubs that won't benefit you when you are away. 
◊  Check to see what your health insurance policy will cover abroad. You should look into the benefits of buying a travel insurance policy.
◊  Ask a friend or family member to collect your mail when you're away, or you can put a hold on your mail.
◊  Use email often? Set up an automatic message for the days you are away.
◊  If you have a home security system, notify the alarm company that you will be away. If you have no security system, you may want to look into purchasing a single security camera for as little as $30 to check in on your home while you're gone.
◊  Plan out the details of how you will get from your home to the airport.
◊  Decide and plan how you will get from the airport to your hotel, hostel, or Airbnb. Do your research to determine if public transport, pre-booked pick up, taxi, or Uber works best.
◊  You need to make copies of your important documents in the unlikely situation someone steals your bag. Having a copy of your passport and credit card can be invaluable. Tip: Most people store their copies in secure apps, on an email to themselves, or give a copy to a friend.
◊  If you have dietary restrictions, many airlines require you to call at least 72 hours in advance to make a meal request or confirm the preference you placed when you booked the flight. You can often have your meal switched out at no extra charge.
◊  Make sure all the electronic items you plan to bring have dual voltage, unless you're traveling to a country with the same voltage as your home country. For example, this means you'll probably have to buy a new hair dryer.
◊  Begin to limit purchases of perishable foods. Otherwise, you'll end up throwing lots of food out right before you leave.
◊  Prepare your entertainment for your flight in advance. Download e-books, music, movies, and travel guides to the Pocket app to make your phone even more useful offline.
◊  If you can, start going to sleep a few hours earlier or later to help you start getting acclimated to your next time zone.
◊  Give your loved ones your travel itinerary. Send them email confirmations of your flight and accommodation bookings and estimates of where you plan to be and for how long. In case of an emergency, they will be able to contact you. Plus, it's always good to have someone keeping an eye on you no matter what your age or gender. Tip: Make sure to have your confirmations and receipts easily accessible in case a hotel or car rental agency attempts to charge you a higher rate than you booked.
◊  Look up your airline's weight and size restrictions for carry-on and checked luggage. Don't assume you are allowed a personal item and carry-on bag. Some low budget airlines are beginning to charge for carry-on bags. Tip: People tend to overlook that there can be weight restrictions along with size limits for carry-on baggage like there are for checked bags. So, know your airline's policies to avoid extra fees.
Unable to display Facebook posts.
Show error
Error: Error validating access token: The session has been invalidated because the user changed their password or Facebook has changed the session for security reasons.
Type: OAuthException
Code: 190
Subcode: 460
Please refer to our
Error Message Reference
.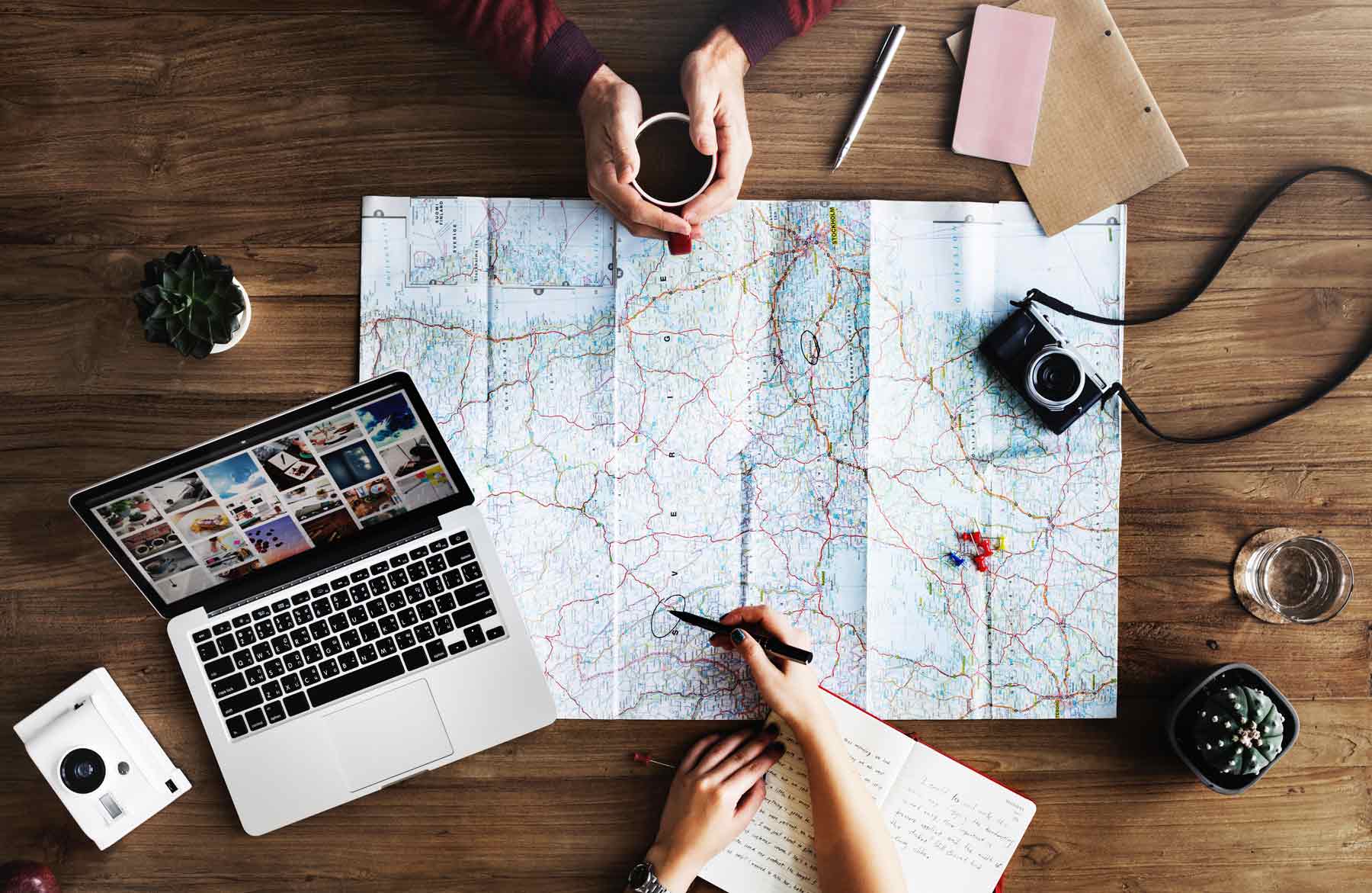 This Copyright-free photo series is by Rawpixel.
◊  24 hours before your departure flight try to do an online check-in. If you were not able to reserve seats before, this may be your best chance of getting the seat you want.
◊  After you have checked in online, print or save your boarding passes in your phone. Tip: If you save your boarding pass within an app, make sure you have a screenshot of it, also. Many apps do not have offline access, don't bet on always having a data or WiFi connection.
◊  You should have everything you're bringing organized by today. Lay out all your belongings and photograph them. This will be useful if you have to file a claim for missing items. Also, this will give you one last opportunity to pack less and take out items you do not need.
◊  Charge all your electronics and spare batteries, so you won't have to scour the airport for an available outlet.
◊  Confirm your accommodation and/or car rental reservations. If there's an issue, it's better to deal with it now than later. Tip: If you are going to a country that doesn't use English characters, you may want to print off addresses and information in their language when possible.
◊  Depending on the length of your trip you may want to cancel or temporarily suspend subscriptions you pay for on a weekly or monthly basis like Hulu (doesn't work in most countries), Amazon Prime, TV services, or your phone plan. I wait until the day before I leave to cancel because I often use these services up until then.
◊  Throw out the perishables in your fridge or make a last meal out of the remaining food.
◊  Check the weather for tomorrow in your departure and destination cities.
◊  Put aside the clothes you will be wearing for the journey and a spare outfit for your carry-on. I have one word for you: comfortable.
◊  Remove contents from your wallet that you don't need to take with you: gift cards, credit cards that don't have a 0% foreign transaction fee, extra business cards, etc.
◊  If you have house plants, water them before you go to sleep.
◊  Now go over your packing list more than once, to make sure you have everything you need. Tip: Make sure liquids are sealed securely.
◊  Write a Last-Minute List for tomorrow of everything you cannot pack yet that you'll need before you leave, like your toothbrush.
◊  Double check everything you packed meets the immigration/customs laws in the country. It would be depressing to start your travels with a large ticket or being detained because you unknowingly brought contraband to your destination. I see it happen all the time, mostly when people bring liquids, food, or plant matter.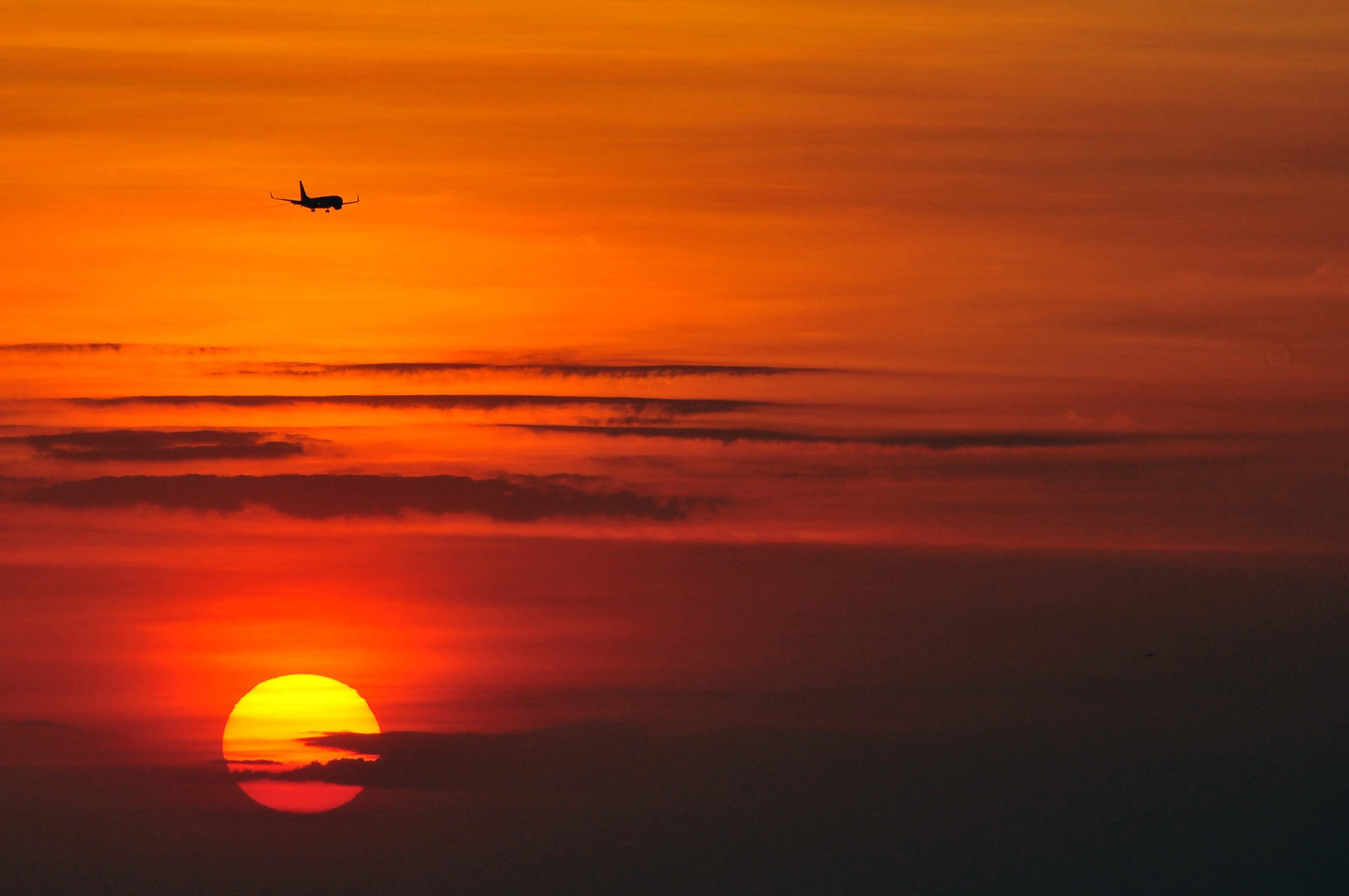 ◊  Make sure all your electronic devices that you have been using the past 24 hours are still fully charged.
◊  Keep yourself hydrated if you want to be prepared to beat jet lag.
◊  Go over your Last-Minute List.
◊  Weigh your luggage again with the things you added last minute and make sure you meet your carry-on and/or checked luggage weight and size restrictions.
◊  Take out all the garbage in the house and make sure you don't leave any crumbs behind.
◊  Turn off all wall sockets or turn off all electrical strips and unplug all electronics.
◊  If you have air conditioning and/or heating, make sure it's off not just on standby.
◊  Make sure all windows and doors to your home are locked.
◊  Make sure you have your cash secure or hidden in more than one place in your carry-on and money belt (if you have one). Check that your bills are not being crushed; if your bills have tears or look worn, they may not be accepted at foreign currency exchanges.
◊  Double check you have the absolute essentials: passport, copy of your passport (paper or electronic), driver's license or second form of ID, travel credit cards, cash, plane ticket, visa (if applicable), travel insurance policy, address of your hotel, medicine, wallet, tablet/laptop, adapters, phone and chargers. Don't stress, most likely if you leave anything behind you can buy a replacement for it abroad.
◊  Plan to arrive at the airport 2-2.5 hours before an international flight, 1 hour 30 minutes before a domestic flight.
Let me know in the comments if you think I left out anything essential.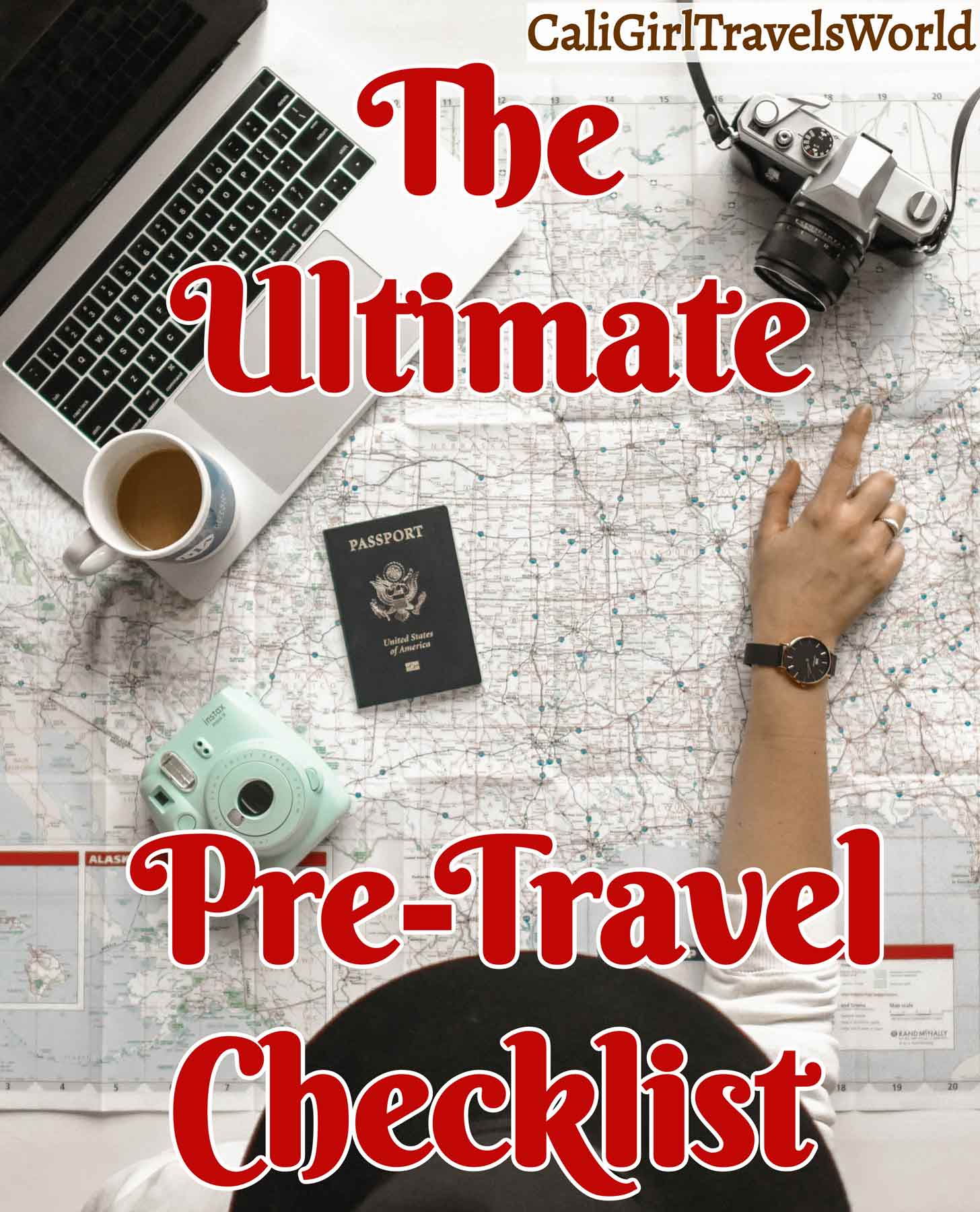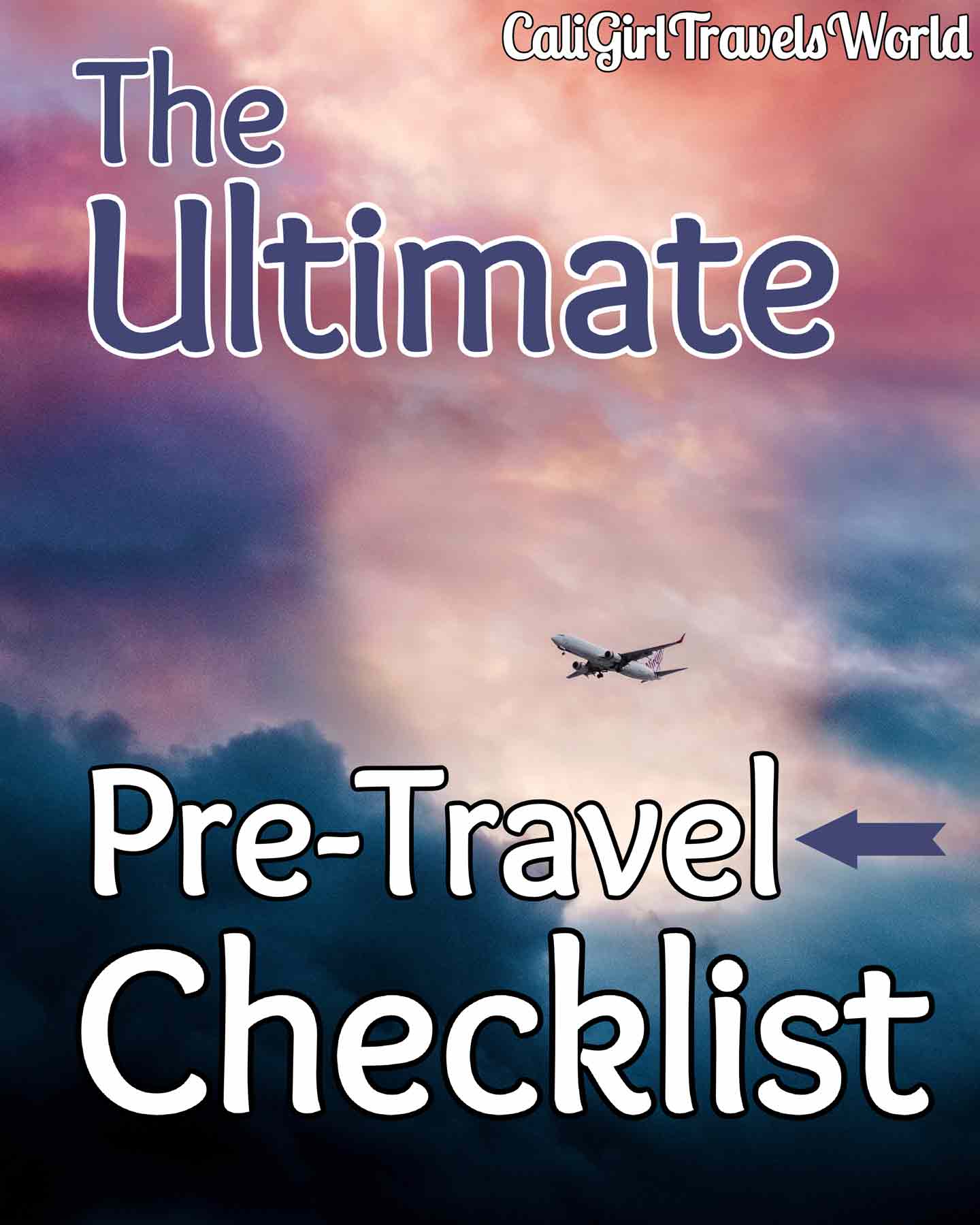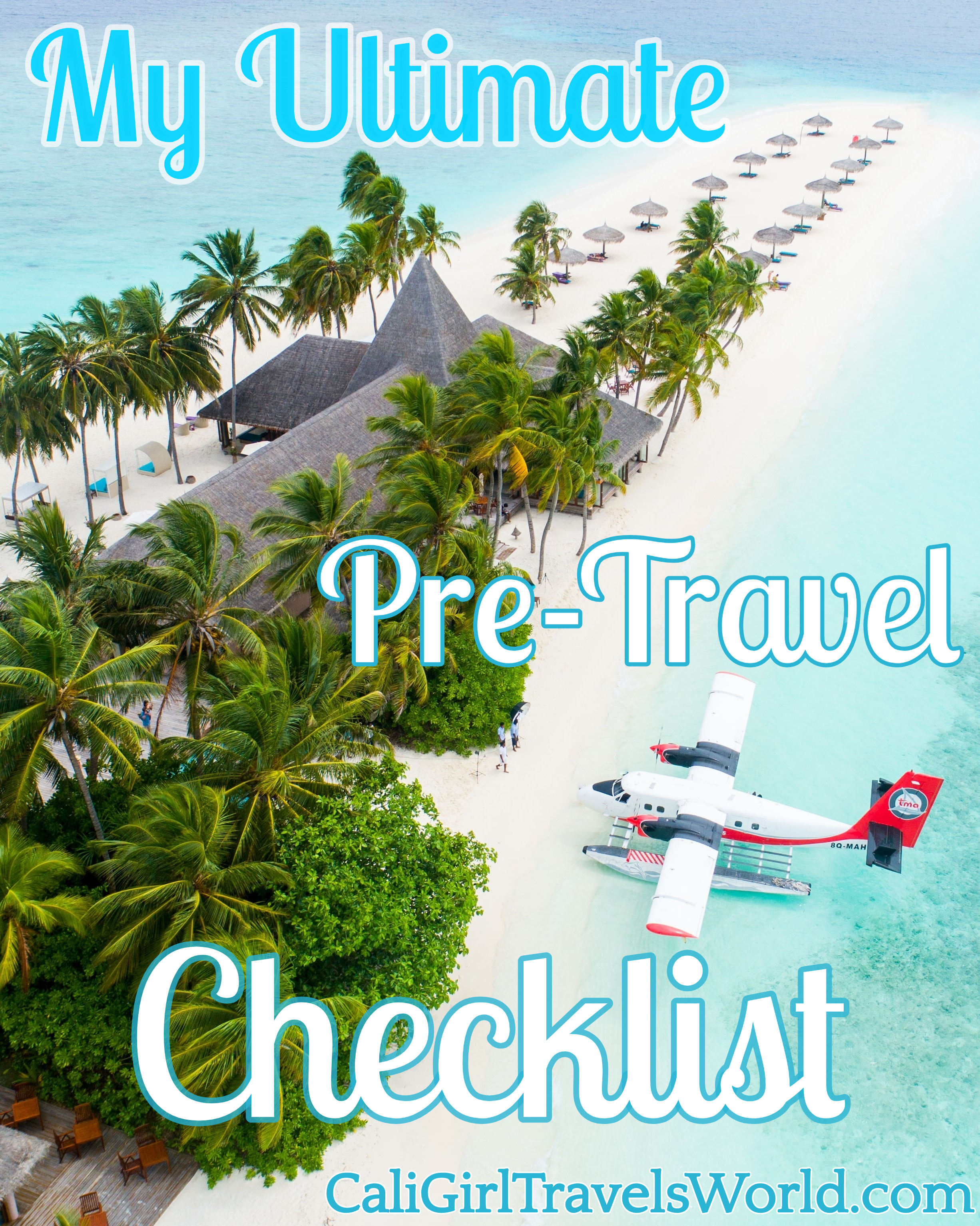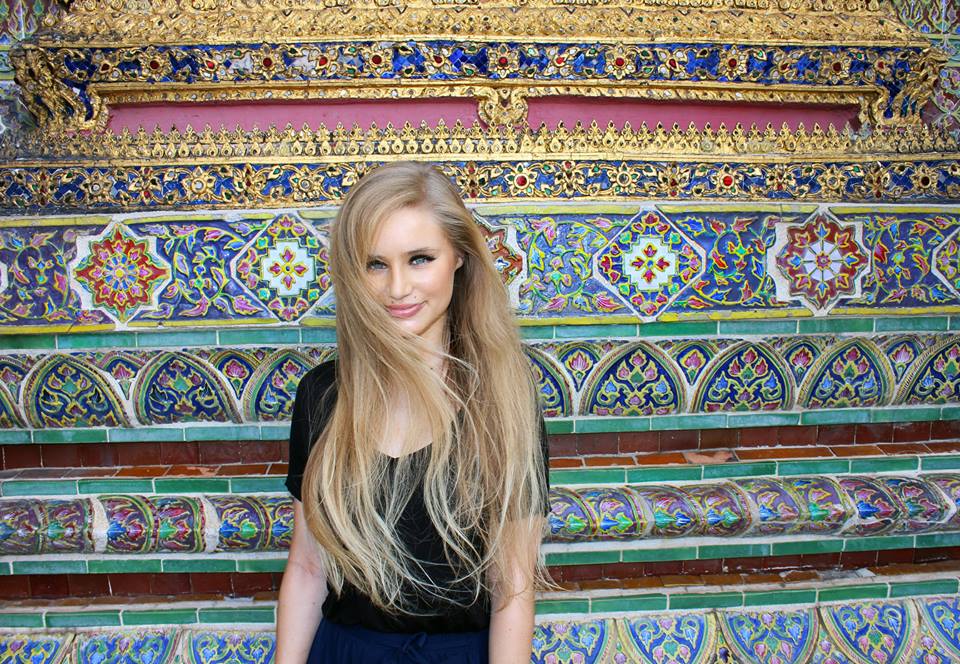 Hi, I'm Brit!
I'm from California, but I don't live anywhere. I've lived out of a suitcase for 5 years among exactly 50 countries, and I don't ever plan to stop. Come travel with me around the world at CaliGirlTravelsWorld.com
Hi, I'm Brit!
I'm from California, but I don't live anywhere. I've lived out of a suitcase for 5 years among exactly 50 countries, and I don't ever plan to stop. Come travel with me around the world at CaliGilrTravelsWorld.com